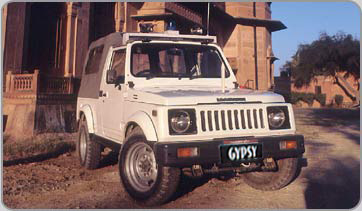 Maruti Gypsy Review: Maruti Suzuki Gypsy was launched in 1985 as first off road vehicle. It is still a favorite to win the difficult rally like "raid de Himalaya´. The Maruti Gypsy was launched as 970 cc 4 cylinders, 4 wheel drive vehicle based on Suzuki SJ. The Maruti gypsy is a four wheel drive SUV. The Maruti gypsy caught fancy of young Indian looking for a peppy ,four wheel driven, off road vehicle which can be used for outdoor activity and racing in difficult terrain. Over the years it also became the vehicle for police, armed forces and other government department, where it was a new vehicle to replace aging jeep.
This is sold in India, Japan, Chile, Hungry, Malta and Kenya.
Maruti had to do some changes like introducing wider wheel base and also upgrade the engine 1.3 liter engine. The engine was changed from carburetor to multi point fuel injection to meet the emission norms. Other than this nothing much has changed in this work horse for last 23 years, which is totally utilitarian, no frill SUV. There are no luxury features in this vehicle. It is available in three variants Maruti Gypsy King soft top, hard top and ambulance is priced around from Rs 5.09 lacs to Rs 5.35 lacs. Its main competitors are diesel based Mahindra and Force Motors but with refined petrol engine Maruti Gypsy is a winner.
The Maruti Gypsy King has 1298 cc, 4 cylinder Type G13BB Multi Point Fuel Injection petrol engine with 16 valves. It develops maximum power of 80 bhp @ 6000 rpm and maximum torque 103 Nm @ 4500 rpm. It's kerb weight is 985 kgs. It has 5 speeds forward and one reverse transmission. The transfer gear box is two speed constant mesh type with gear ratio of high as 1.409 and low 2.268. The suspension is front and rear leaf spring with double action damper. Gypsy has front disc break with booster and rear brakes drum with booster.
Maruti Gypsy is an all weather all terrain vehicle due to its robust and sturdy structure. It has been used in hilly terrains, dirt roads, and desert and has performed well in all kind of situations. Due to its higher ground clearance of 210 mm and clutch design it can run smoothly on hills. It is easier to start in cold conditions due higher thermal conductivity; this property also helps in desert as heat gets dissipated faster.
The engine power of 80 bhp @ 6000rpm comes handy in crossing stream and its low weight and better power to weight ratio of 0.0812 help to tackle muddy terrain.
The Maruti Gypsy is not fuel efficient for daily use and gives 6 to 8 km per liter. Also back seats are not comfortable at all only front seats are comfortable. However, this is good value for money, no frill SUV.
Maruti Suzuki Gypsy Prices, Maruti Gypsy Price
Maruti Gypsy Price Bangalore:
King soft top: 5.19
King Hard Top: 6.33
Maruti Gypsy Prices Delhi:
King soft top: 5.56
King Hard Top: 5.74
Maruti Gypsy Price Mumbai:
King soft top: 5.59
King Hard Top: 6.21
Maruti Gypsy Price Chennai:
King soft top: 5.71
King Hard Top: 6.93
Maruti Suzuki Gypsy Specifications, Maruti Gypsy Specs
Dimensions
Length: 4010 mm
Width: 1540 mm
Height: 1875/1845 mm
Wheelbase: 2375
Front Track: 1300 mm
Rear Track: 1310 mm
Kerb Weight: 985 kg/1,050kg
Gross Vehicle Weight: 1585kg/1,650kg
Width: 1540 mm
Engine
Type: G13BB MPFI 16 Valve Gasoline
Cylinder: 4
Displacement: 1298cc
Maximum Power: 80 bhp @6000 rpm
Maximum Torque: 103 Nm @ 4500 rpm
Transmission
Type: Five forward, One reverse
Transfer gearbox: Two-speed
Type: constant mesh
Transfer gear ratio: High : 1.409; Low : 2.268
Suspension:
Front and Rear: Rear Leaf spring with Double action damper
Brakes: With Booster
Front: Disc
Rear: Drum
Tyres:
Type: F78-15-4 PR 205/70R15
Capacities:
Fuel tank: 40 L
Engine oil: 4.0 L